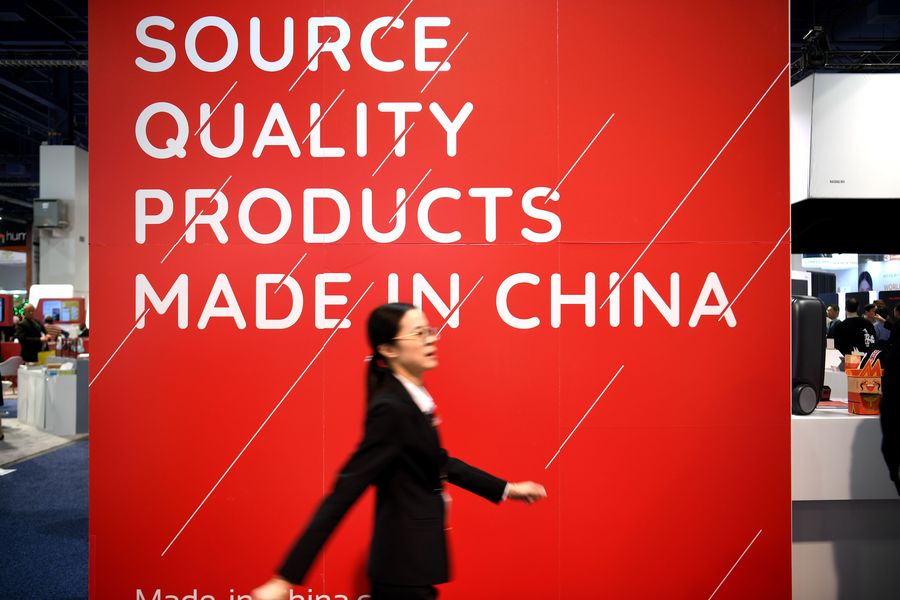 A woman walks past a poster at the 2020 Consumer Electronics Show (CES) in Las Vegas, the United States, Jan 7, 2020.
LAS VEGAS, United States -- Chinese companies shone at the 2020 Consumer Electronics Show (CES) held here with a multitude of leading edge products: The world's first 5G personal computer (PC), electric SUV with stunning entertainment functions, 8K TV and wallpaper-thin OLED TV, smart home devices, fitness home studio and others.
To describe Chinese companies exhibiting at the CES 2020, "innovation" is a must keyword when viewing their exhibits -- large as an SUV and small as a U-shaped tooth brush, all with surprising innovative elements.
"Chinese companies are increasingly innovative," said Gary Shapiro, president and chief executive officer (CEO) of the Consumer Technology Association (CTA), the CES organizer.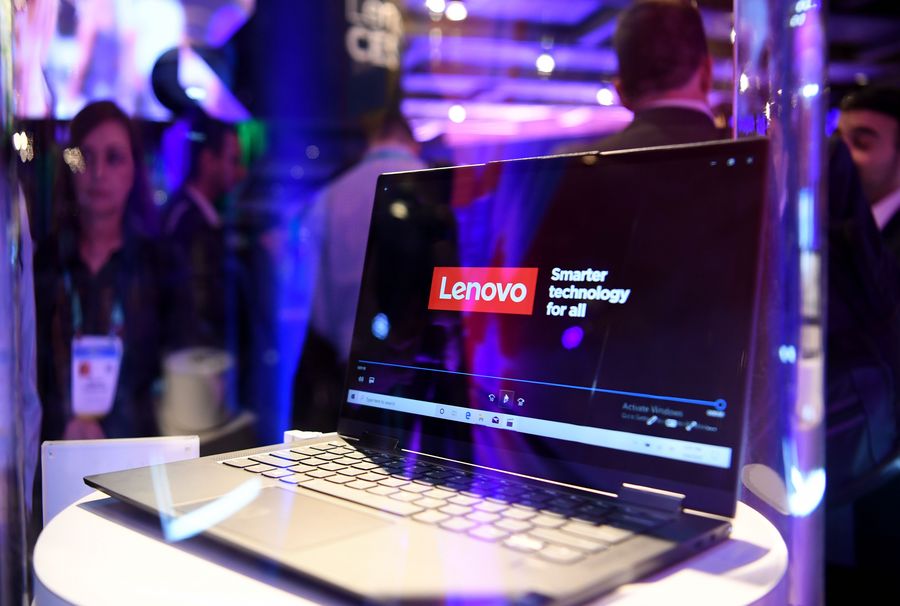 Photo taken on Jan 8, 2020 shows the 5G personal computer (PC) launched by Lenovo during the 2020 Consumer Electronics Show (CES) in Las Vegas, the United States.
BIG-NAME STAGE
Top Chinese companies, including TCL, Lenovo, Huawei, Byton, DJI, Haier, Hisense, Konka and ZTE, returned to the CES this year, all with their innovative products.
Lenovo launched the world's first 5G PC at the event, bringing 5G connectivity to a premium computing experience beyond smartphone technology for the first time.
The new PC, named "Yoga 5G," is an ultra-portable two-in-one laptop and the first-ever PC powered by the Qualcomm Snapdragon 8cx 5G Compute Platform, delivering high-speed 5G network connectivity up to 10 times faster than 4G, according to Lenovo.
"We considered 'always online' as an important factor while we were developing the first 5G PC, which is a basic requirement for future smart PCs," Lenovo Chairman and CEO Yang Yuanqing told Xinhua.
Lenovo also exhibited other 5G innovative products at the CES, including the world's first foldable PC, the ThinkPad X1 Fold, and its 5G foldable smart phone "Razr."
China's leading electric car manufacturer Byton displayed its first production model, the M-Byte.
The electric SUV features a digital cockpit that transforms the driving experience, including an eye-catching 48-inch (about 1.2 m) Shared Experience Display -- the world's largest in-car display for a production automobile, a driver tablet at the center of the steering wheel, a touch pad between the driver and the front passenger, independent rear-seat entertainment screens and multiple interaction modes.
"We are rooted in China because we believe China is the only place where we can do it," said Byton CEO Daniel Kirchert, adding that China's innovation and entrepreneurship environment is full of vitality, and the Chinese central government and local governments have provided great support for the development of new energy cars.
Skyworth, China's leading TV manufacturer, unveiled its first 8K TV and a wallpaper-thin OLED TV. With a resolution four times higher than 4K, the 8K TV allows viewers to see realistic images, while the wallpaper-thin OLED TV is designed on inspirations from the thin and light qualities of paper. Being only 4.6-mm thick at its slimmest point, the OLED screen is seamlessly attached to the wall.
Skyworth expects to become a brand that leads the consumer electronics market of the future, offering 8K TVs and flagship-level OLED TVs, together with other products, to meet the demands of the growing middle class, said Tony Wang, CEO and president of Skyworth TV.
TCL Communication announced a number of "linkhub" and "movetrack" products, extending the connectivity of all smart devices on the go, including pets. These connected devices serve to enhance TCL's integrated ecosystem consisting of televisions, audio products, smart home appliances and mobile devices.
The company's innovative visual display technology won the "8K QLED TV Gold Award 2019-2020" and "Innovative Visual Display Technology Award of the Year" issued by International Data Group (IDG), a leading data and marketing services company based in Massachusetts.
In addition, TCL has also won five brand awards for 2019-2020, including the global TV brand TOP 10, the leading consumer electronics brand TOP 10, and the leading global smartphone brand TOP 15.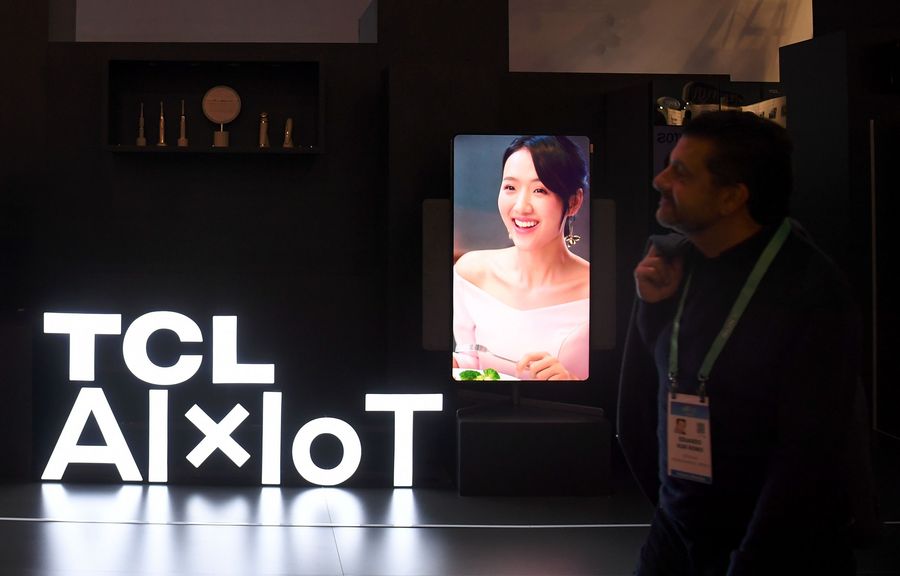 A man visits TCL's booth at the 2020 Consumer Electronics Show (CES) in Las Vegas, the United States, Jan 7, 2020.
INNOVATIVE START-UPS
China's startup companies may not be as well-known as the big names, but their innovative spirit and ambitions are equally high.
Huami, founded only in 2013, unveiled six new smart wearable products, including the futuristic immersive fitness and category-redefining Amazfit HomeStudio, which transform the traditional way of fitness.
In recognition of these ground-breaking innovations, IDG handed out two top awards to Huami at the show, namely the Most Noteworthy Smart Wearable Innovation Enterprise and the Best TWS Fitness Earphones.
PowerVision Robot Corporation, specializing in smart drones, artificial intelligence (AI), virtual reality and augmented reality, launched its newest product, the PowerEgg X, at the CES 2020. The multi-function device can be used as an autonomous personal AI camera as well as a high-performance drone.
By launching the PowerEgg X, PowerVision has created an entirely new product classification, the all-in-one autonomous personal AI camera category.
"(To) Innovate the future is our mission and innovation is in our DNA," said Wally Zheng, founder and CEO of PowerVision. "By creating a multi-purpose device, PowerVision has reduced users' cost and storage requirement, increased ease-of-use, giving users unprecedented convenience."
Founded in 2015, Horizon Robotics is at the forefront of creating AI technology that will enable safer and more intelligent vehicles, and has already become a partner of advanced innovations with companies such as Bosch, Audi and Continental AG.
At the CES 2020, Horizon displayed a number of AI chips and products jointly developed with partners. "Many foreign customers have come to talk with us and expressed intent to cooperate," said Lyu Peng, director of international business development with Horizon.
PuduTech, a top-notch intelligent indoor delivery robot provider from China, showcased three of its delivery robots at the event. The company used two-thirds of its exhibition space to set up a "Future Restaurant" for visitors to experience how the delivery robots work in real environment.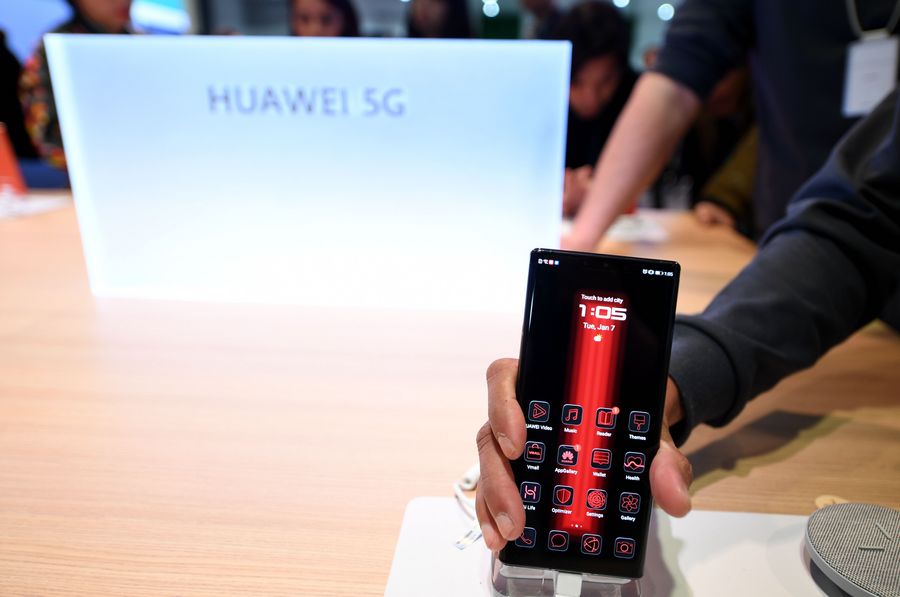 A visitor experiences a 5G smart phone at the booth of Huawei at the 2020 Consumer Electronics Show in Las Vegas, the United States, Jan 7, 2020.
PROVIDING EVERYDAY CONVENIENCE
A large chunk of the some 1,000 Chinese companies attending the CES 2020 are small companies with no more than 100 employees. They are mainly engaged in designing and producing small products closely related to everyday life, from phone screen protectors, tooth brushes to vehicle electronics.
These small companies may not be high-tech, but they still have eye-catching innovative elements in their products.
A U-shaped electric tooth brush presented by Magenta Technology International Ltd. from the Chinese city of Shenzhen aroused the interest of many visitors.
"There is no such design in the U.S. market," said Sober Gao, managing director with Magenta. "We have a number of patents on this product."
Patrick McNamara from North Carolina, who showed a keen interest in the tooth brush, said he had never seen that design before.
"It's better than the traditional tooth brush. It looks original and unique," he said, while advising the company to improve the handle of the product so that it can have a more professional look.
Beneworld International, a small company engaged in vehicle electronics, exhibited dozens of uniquely designed GPS, rear view monitor, DVR and other vehicle electronic products.
"We have dozens of patents, both design and software patents," said Stephen Tang, CEO of Beneworld. "We follow scientific and technological development very closely and (are) always quick to integrate state-of-the-art technologies into our products."
"The quality is good for the price," said Jamal Awad from the U.S. state of Georgia, who was negotiating with Tang at the booth, planning to order 500 rear view monitors.
The CES 2020 hosted some 4,500 companies, nearly a quarter of which are from China. "China remains a top international market at CES, with many Chinese companies exhibiting at the show to build their brand and forge global partnerships," said the CTA in an email to Xinhua.